Table of contents
The 4-Hour Body by Tim Ferris is a lifestyle and dietary guide on how to become superhuman.
I was especially interested because it promised increased physical energy, mental clarity, and overall performance. In this guide, I will provide a slow-carb diet meal plan, food list, and other important recommendations Tim Ferris mentions to understand better what the slow-carb diet is about.
🦸‍♂️ How to Become Superhuman with the Slow Carb Diet by Tim Ferris
After reading The 4-Hour Workweek from the author of four #1 New York Times and Wall Street Journal bestsellers, Tim Ferris (and thus totally transforming my productivity), I decided to give his book The 4 Hour Body a try.
Kevin Kelly, Wired Magzine writes: "A cookbook of minimalist methods for rapid body transformation - a practical crash course in how to reinvent yourself."
❗ Important things to know before starting with the Slow Carb Diet
Expect to eat 2-3 times more the volume you eat normally, and you should.
This diet is supposed to be effective, not fun.
🧾 The Slow Carb Diet Food List
💡
Get at least 20g of protein per meal.
🥩 Protein
Salmon*
Chicken
Eggs*
Tofu*
Seitan
Textured Vegetable Protein
🥔 Legumes
Lentils*
Black Beans*
Pinto Beans
Red Beans*
🥦 Vegetables
Spinach*
Mixed Vegetables*
Peas
Brokkoli*
Green Beans*
Sauerkraut
*Foods I bought for the first week of my meal preparation for the slow carb diet (start 01.03.23)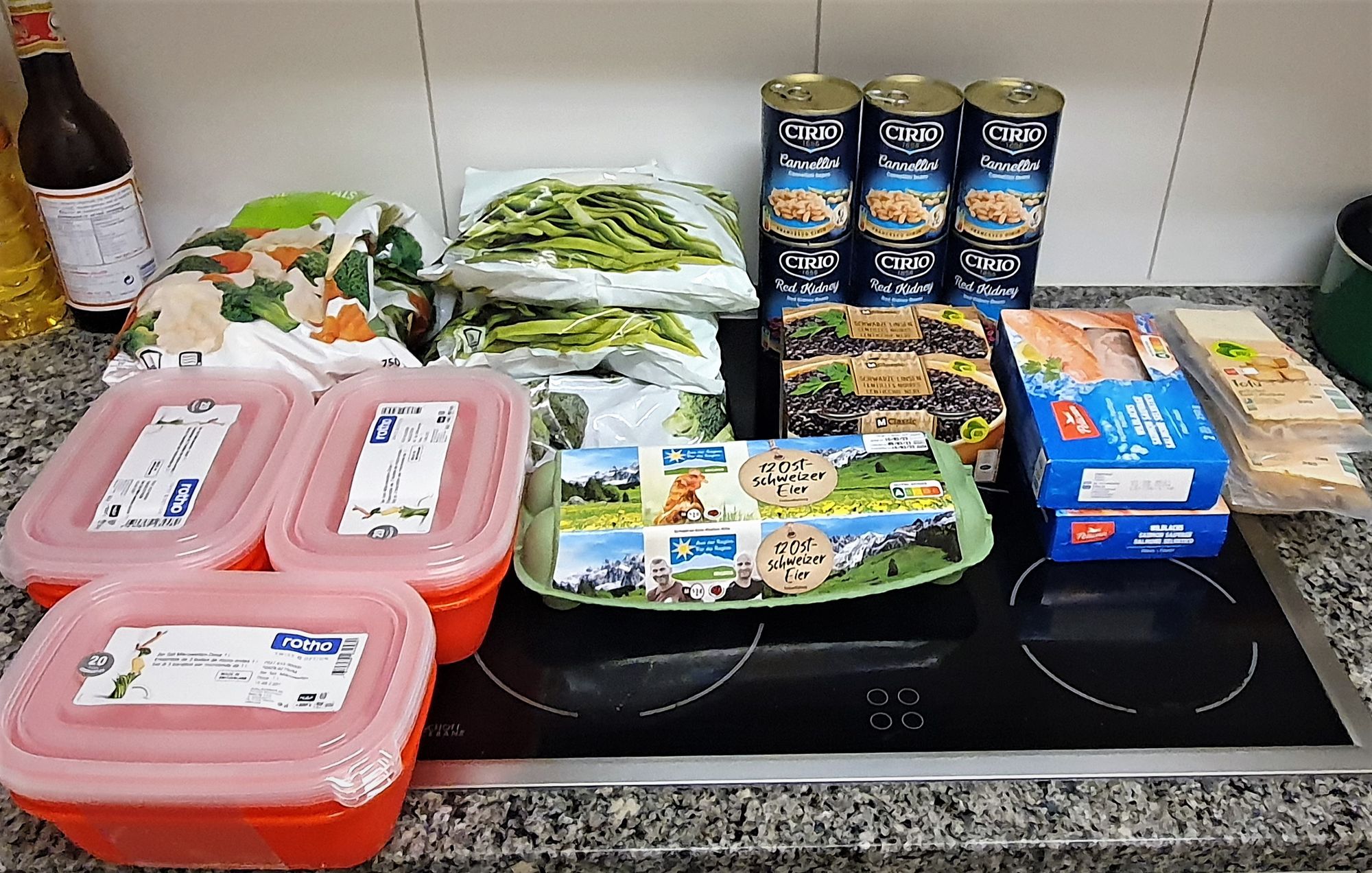 These are the groceries I bought for the first few days. Probably this won't last even a week...
My Proteins:
2x 230g of smoked Tofu
1x 500g of Tofu nature
2x 250g Salmon
My Legumes:
500g white beans
500g red beans
800g black lentils
My Vegetables:
2 kg mixed frozen vegetables
1kg green beans
800g broccoli
🐢 My Slow-Carb Diet Meal Plan
Because I want to make it as easy as possible for me, but still have a variety of flavors and want to enjoy eating, I prepared 3 Meal options for the week.
I will always try to meal prep my meals on Sunday for the whole week. This will make 18 meals (3 meals per day x 6 days). Saturday is my cheat day.

Meal 1: Tofu, Black Beans, Mixed Vegetables
Meal 2: Salmon, Pinto Beans, Spinach
Meal 3: Eggs, Lentils, kimchee
Snacks: Peanuts, Almonds, Walnuts, Pumpkin seeds (high in potassium), carrots, eat another low-carb meal, peanut butter (ingredients: peanuts, maybe salt)
Other things to add or eat if the diet becomes too boring:
salsa to the eggs
cinnamon and vanilla
❌ What not to Eat and Drink
Milk, including soymilk
sugary drinks
fruit juice
fruit
sweeteners and sugars (spike insulin levels)
white carbohydrates
💊 Supplements
Potassium (or eat Avocados)
Calcium
Magnesium (500mg before sleep will also increase sleep quality)
Athletic Greens
Whey Protein
🌺 My Personal Experience after Starting the Slow Carb Diet
I noticed that my peaks and lows are smoother. I don't have the high energy phases I normally have after eating foods high in sugar, but I don't have the downs, either.
My problem before was why I binged when I was tired and hungry: I didn't have a strict plan for what not to do and what to eat.
Do NOT forget to:
Drink enough water
eat enough protein
🍭 How to stick to the Slow Carb Diet when life gets in the way
Make it public